Discover Qigong - online 4 week series
September 2, 2020 September 23, 2020
Series Of Classes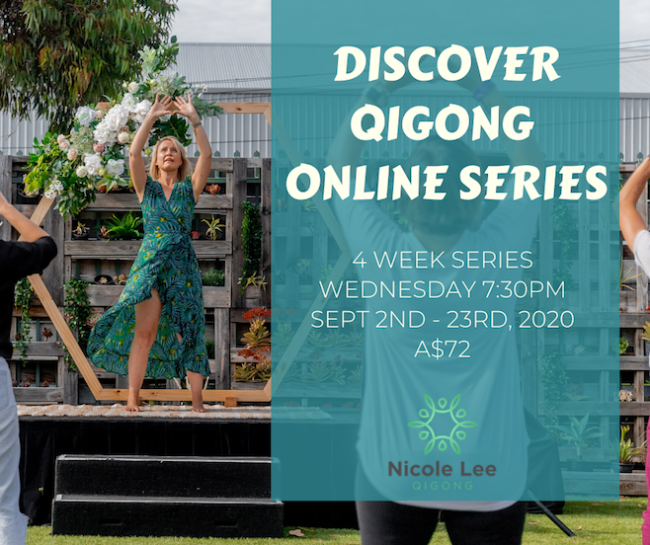 Join me livestream online over 4-weeks to Discover Qigong! This series is an introduction into Qigong, it's best suited to students with little or no experience with the practice.
Qigong is a gentle and restorative exercise therapy and moving meditation. It's an ancient self-care practice that comes from China and Traditional Chinese Medicine. Qigong helps release tension; physical, mental and emotional, allowing the body's energy to circulate freely and activating your innate self-healing ability.
In this workshop we cover:
What is Qi
What is Qigong?
Roots, history and connection to TCM
Types and styles of Qigong
Basics and fundamentals
Purpose and Benefits
You'll discover your Qi
You'll experience both Modern & Classical styles of Qigong
Suitable for all ages and levels of fitness. You'll receive access to the online class recordings after each session.
Full details to join via Zoom will be provided upon registration. Please be online 5 minutes prior to the scheduled class time.

Please note there is a no refund policy for all our classes, workshops, trainings and events.

I acknowledge the traditional owners of country across Australia. I acknowledge that I live and share my work on the land of the Boon Wurrung people of the Kulin Nation, and pay my respect to them, their culture and Elders past, present and emerging.
The class takes place on...
September 2 at 6:45 pm (Wednesday)
September 9 at 6:45 pm (Wednesday)
September 16 at 6:45 pm (Wednesday)
September 23 at 6:45 pm (Wednesday)

Click the button below to purchase this class series. You will be registered to attend all the classes in the series.
Online Course Pass - 4 week series
This pass is for our online livestream series / courses over 4 weeks.